Who doesn't love a good take-out meal? Indulging in a freshly delivered pizza is one of my favorite pastimes, but in the new year I've been making a valid effort to stay on track and eat a nutritious and well-balanced diet. That doesn't mean that I haven't been craving the good stuff though. I'm a firm believer in treating yourself, but I also think there are ways to take the foods that you enjoy the most and turn them into something healthy without sacrificing flavor. Case and point, this quinoa fried rice.
If you haven't tried quinoa yet, you don't know what you're missing. It's gluten free, high in protein and fiber, and it tastes amazing. Quinoa is super simple to cook, and I love to prepare mine using chicken or vegetable broth for an added kick of flavor. It's similar to rice, in the fact that it is a grain, however it provides so many more health benefits, making it the perfect ingredient to makeover one of my favorite take-out indulgences, fried rice. Believe it or not, this dish comes together really quickly, especially if you cook your quinoa ahead of time. It makes for a great side dish, but you could easily turn it into a meal by adding some chicken. Either way, I promise that you'll be craving this healthier version from here on out.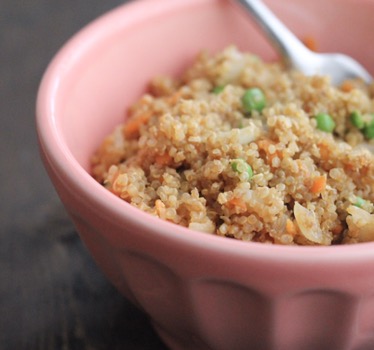 Quinoa Fried Rice
(serves 4 as a side dish, or 2 as a meal)
Ingredients:
1 cup of quinoa (cooked per the directions on the package. as mentioned, I substitute broth for the water)
2 Tbs extra virgin olive oil
1/2 large onion, diced
2 cloves of garlic, minced
2 Tbs reduced sodium soy sauce
1/2 cup frozen peas
1/2 cup of fresh shredded carrots (or frozen diced carrots)
2 eggs, beaten
Instructions:
Over medium-high heat, add olive oil to a large sauté pan.
Add the onion and garlic, and cook until translucent and fragrant.
Add the quinoa and stir, while adding the soy sauce.
Add the peas and carrots, and continue to stir.
Add the eggs to the pan, and stir until they are well combined with the quinoa and cooked through.
Transfer to a serving dish and enjoy!